Futurum Week in Review: March 11, 2017
Shelly Kramer
/ March 12, 2017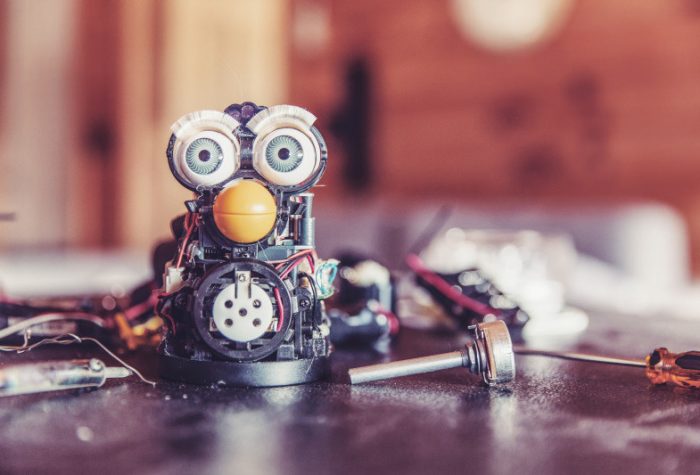 What's going on in tech this week? IBM and Salesforce partner, robots are being deployed at fast food restaurants, WebMD is partnering with Alexa to provide users health information with voice commands—and more. Here's the week's technology roundup from the team at Futurum Research.
IBM and Salesforce partner to sell Watson and Einstein. Last week IBM and Salesforce announced a strategic partnership that will bring insights from IBM's Watson Artificial Intelligence to the Salesforce Intelligent Customer Success Platform.
According to a press release, "the partnership will bring new insights from Watson directly into the Salesforce Intelligent Customer Success Platform, combining deep customer insights from Salesforce Einstein with Watson's structured and unstructured data across many sources and industries including weather, healthcare, financial services and retail. Together, Watson and Einstein will ingest, reason over and derive recommendations to accelerate decision making and drive greater customer success." 
This partnership is nothing but smart. Integrating IBM Watson APIs will add a new level of artificial intelligence to Salesforce Einstein, which already dominates so much of the CRM landscape, offering even more insights to enterprise sales, marketing, product offerings, retail—you name it. To find out more about this partnership and how it can help your business or clients, check out this article shared by Suzi McCarthy on Twitter.
IBM and Salesforce partner to sell Watson and Einstein https://t.co/llQ2JcfTzo via @TechCrunch pic.twitter.com/Z1KG1OVOJC

— Suzi McCarthy (@suzimcc) March 10, 2017
Amazon Alexa to offer health information through voice assistant.  Voice assistants are booming and if you've been using Alexa, Cortana, Siri, or Google Home, you are on the front lines of what is sure to be a big part of the future.
That's why the integration of WebMD into Amazon Alexa's offerings is interesting—and a glimpse into integrations we'll no doubt see many more of moving forward. Why this particular news matters? One of the most searched for things on the internet is health information. And in the battle for dominance with virtual assistants, Amazon is blazing a trail making this move into healthcare for consumers. On a related front, if this doesn't illustrate for you brands and marketers out there how voice queries are going to change everything about search engine optimization as we know it, well, I'm not sure what you're thinking. Voice queries are uniquely different from typed queries, and crafting content and messaging to account for this had best be on your radar screen.
To find out more, head over to this link shared by @Berci on Twitter. It's a must read.
WebMD integrates with Amazon Alexa to offer health information through voice assistant https://t.co/kkgRR4qYqb #digitalhealth pic.twitter.com/9dvHNTnpNY

— Berci Meskó, MD, PhD (@Berci) March 8, 2017
Robotic Chefs Are Getting Better—If You Like Fast Food. Robots are increasingly being integrated into our society. In a move designed to both reduce costs and provide improved efficiencies in customer service, Wendy's recently announced the integration of robots into the fast food restaurant experience. Start-ups are also finding ways to use robots for simple culinary tasks that can be automated in fast food kitchens.
The question is, will the burgers cooked by the robotic chefs taste as good as the one prepared by humans? We will soon find out, as CaliBurgers have partnered with Miso robotics to develop Flippy, the burger robot. Here's the reality for our world: Whether it's taking and processing orders or putting burgers on a grill and flipping them in a pre-determined amount of time, if a task is predictable and repeatable and handled by a human, chances are good it will soon be handled by a robot. Wendy's predicts that the robots will deliver a return on investment within two years or less of deployment. That's bottom line information that fuels this kind of tech integration. Want a deeper dive? Good info here on this front shared by Kurt Hamm.
Robotic Chefs Are Getting Better—If You Like Fast Food… https://t.co/lpjTKPgMsj #computing #science #technology pic.twitter.com/hZGE4Vl1qK

— Kurt Hamm (@kurthamm) March 9, 2017
If you want to see the Flippy in action, check out this video.

Teaching robots to trust. When it comes to robotic technology, one frequent question is : Can we trust robots? Terminator fans know that this is definitely something to be concerned about, as robots have been known to turn on their human masters—at least they do in Hollywood.
But seriously, are robots reliable? Can these devices truly help humans, especially in times of emergencies. Robots have already been used in life and death situations to help the military disarm weapons and explosives. Robots have also been used in the medical field. A lab at Tufts University has been working with robots for some time now and the research staff asked an equally important question: Should robots trust humans? This is a great read on that topic shared by Jason Jersey.
Teaching robots to trust https://t.co/uq8BnZJU9F by bheater pic.twitter.com/2oThrr6jkP

— Jason Jersey (@degersey) March 9, 2017
Worried the CIA Hacked Your Samsung TV? Here's How to Tell. There are now over 40 million US households that own smart TVs. What sets apart these high-tech internet connected television sets is the ability to access services like Netflix, Hulu, games, and social media without the use of a Roku, Apple TV, and other set top media streaming device. The downside is that these smart TVs may be tracking your every move, from your viewing habits to listening to your conversations.
Last Thursday, WikiLeaks revealed that Samsung smart TV owners are particularly vulnerable to spying. If you own one of these smart TVs and you're worried that the CIA (or anyone else) will start spying on you, head on over to this article shared by Brett Decker to find out more.
Worried the #CIA hacked into your #Samsung #TV?? Here's how to tell if #BigBrother is listening: https://t.co/fSo7rg5oVV

— BrettMDecker (@BrettMDecker) March 8, 2017
Photo Credit: coremedia_info Flickr via Compfight cc
Shelly Kramer is a Principal Analyst and Founding Partner of Futurum Research, the President of Broadsuite Media Group, and the CEO of V3 Broadsuite. A serial entrepreneur with a technology centric focus, she has worked with some of the world's largest brands to lead them into the digital space, embrace disruption and the reality of the connected customer, and help navigate the process of Digital Transformation. Her knowledge of Big Data, the Internet of Things (IoT), Mobility, Cloud, and Collaboration, and her work with CMOs, CIOs, CXOs, and more, mean that her insights on innovation, disruption, customer experience, and transformation aren't based on hypothesis—they're based on real world experience and real world success.
Latest posts by Shelly Kramer (see all)